DeBary, FL.
64 deg. light fog, no wind.
Forecast = Foggy this morning, then partly cloudy this afternoon. High 82F. Winds SSE at 5 to 10 mph.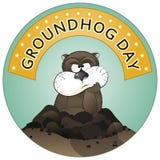 Happy Groundhog Day!!!!!
Linda's still doing fine, but she has been extremely tired since her last chemo treatment and has almost no energy at all. She's also been having some dizziness, which is also part of the Chemo side effects.
Until yesterday, there hasn't been much happening around here. Just normal everyday things. But, yesterday, after Jim and Linda had come back from Walgreen's, Jim showed Linda a photo of a truck that he had been looking at on the Internet.
Why has Jim been looking at trucks, you ask?
Well, I've heard little bits and pieces of conversation between Linda and Jim lately, (in fact for the last month or so), that neither of them were real happy with how Bobbie T was working out for them. You see, they both have admitted that they thought that she would work fine, but they had made a mistake when they thought that the very small bathroom, the lack of a comfortable place for Jim to sit and relax and a tight bedroom was something that they could deal with.
On top of that, since Linda has this medical problem and will not be able to travel as much as they had planned, it won't be good for a motorized RV like Bobbie T to be sitting for long periods of time. In fact she already has one brake caliper hanging up and will have to be taken someplace to get that fixed before she can be used again.
So, , , , , , Jim and Linda have decided that a medium sized travel trailer or 5th wheel would serve them better and be more suited to the type of traveling that they will be doing in the future. Now, of course, CLT couldn't possibly pull either one of those types of RVs, so Jim has been looking at 3/4 ton trucks to take his place. They hadn't planned on doing any trading this soon, but CLT is going to need some work real soon, (new tires and a power steering pump for sure), so rather than spend money on him, it was decided that now was the time to trade if they could find a suitable truck.
Like I said, Jim has been looking at trucks and a few days ago, he found one that he liked, at a price that they could handle. So, yesterday afternoon, they headed over to Gibson Truck World in Sanford to look at it.
Well, it turned out to be almost exactly what Jim was looking for in a truck. It's a 2006 Dodge Ram Laramie Crew Cab with a 5.9 Liter Cummins Diesel engine. And, it's RED, just like my sweater!!!! ;-) It only has 49,000 miles on it and both Jim and Linda said that it looks like it just came out of the factory. It also has a Carfax Report with it and the dealer is giving it a 1 year bumper to bumper warranty!!
But wait, there's more!!!! The dealer is also giving them 12 months of free scheduled maintenance on the truck, up to $1000.
It also has all it's past maintenance records and it is certified as being a 1 owner vehicle.
Did I mention that it's RED?????
This is a photo of it that I got off of the dealer's website. It sure looks nice to me!!!.
Jim and Linda will be picking it up sometime this next week, as soon as they can get their finances together. :-)
Did you know that according to National Climatic Data Center, Punxsutawney Phil, the most famous of all the Groundhog Day groundhogs, isn't very good at his job, having picked correctly only 39 percent of the time?
Woof!!!!
Did I mention that it's RED????