Rantoul, IL.
59 deg. clear, no wind.
Forecast = Mainly sunny to start, then a few afternoon clouds. High 84F. Winds light and variable.
Happy 4th of July!!! I hope all of you have a great holiday!!!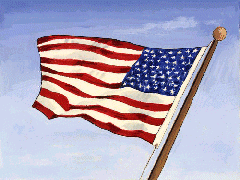 Here's a little narration, (This is not a song), by Johnny Cash that I found a few years ago. It's called "
The Ragged Old Flag
". Please take a few minutes to listen to it. It reminds you of just what our flag has been through to keep us free.

Did you know that In 1870, the U.S. Congress made Independence Day an unpaid holiday for federal employees?
In 1938, Congress changed Independence Day to a paid federal holiday.
Woof!!!